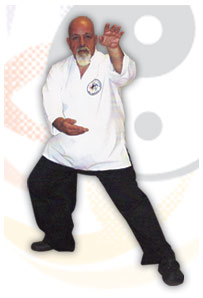 Healing Arts
Healing Arts are different, beautiful and effective methods of strengthening Internal energy (Chi) and ultimately enhance your health and quality of life.

Sifu Mannie Barstz, who started the school in Blackheath, had more than 30 years experience in Tai Chi Chuan (Martial Art combined with Moving Meditation), Qi Gong (energy cultivation) and Qi Gong Massage.



Student Testimonials
My name is Pamela Prendini
. Tai Chi Chuan and Chi Kung is the most definitive Martial Art which provides the total balance of Chi. Graceful and beautiful, every move manipulates the Yin and Yang of energy for total healing and tranquillity. A world of movement it has re-created for me the energy to move forward as an artist and a human being. Potent and calming it re-balances the internal universe of one's soul.
My name is Jade Venter
and I am 23 years old. Tai Chi fills my heart with peace making and creating new possibilities and experiences in my life. Thanks Sifu Mannie.
My name is Bob Farish
and I'm 62 years old. I've been practicing Tai Chi and Chi Kung for about four years. Since I've been learning Tai Chi it has become a way of life. I'm fitter, more supple, healthier and more relaxed, worrying a lot less than I used to. Thank you Sifu Mannie.