Sifu Mannie Barstz

Sifu Mannie Barstz was born in the winter of 1953, the year of the water snake, in Johannesburg South Africa. His father was a Judo teacher and mother in the corporate world.

At age five Sifu Mannie began his journey in to Martial Arts and studied Judo until 1965. He then mastered the discipline of Karate until 1977. During his studies he learned a great deal about anatomy and physiology and maintained a keen interest in body mechanics and energy medicine therapy, the human body's ability to heal itself, and the field of intricate energy (Chi) that flows through all living things. He has studied oriental and western massage therapies and other disciplines for relaxation and pain relief.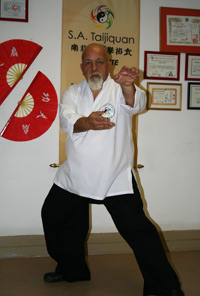 Sifu Mannie began his Tai Chi Chuan and Chi Kung journey in 1978 and has studied and followed the teachings of the Great Masters, Chen, Yang, Sun and Wu and the philosophy of the various styles for both health and Martial Arts.

He was fortunate to have three teachers, all doctors of Chinese medicine, acupuncture and Chi Kung, namely Dr. Chien Miel Su, Dr. Lee, Dr. Liang Dong Sheng and attributed his great love and interest to these great men.

He has been certified by the International Tai Chi Chuan Federation of the Republic of China, appointed and trained by Dr. C.M Su, Dr. Liang Dong Sheng and Dr. Lee.

He was an International Coach and Judge, Member of the International Martial Arts Development Association, Member of Kuoshu Federation, Executive Committee Member of S.A. Tai Chi Authority, Senior Teacher of S.A. Taijiquan Institute and MAASSA member. Certified by City & Guilds of London. Sifu Mannie teached in and around Johannesburg at various venues.

In his own words his journey taught Sifu Mannie humility, patience and the ability to work with, and teach, people of all ages and levels of fitness, as well as those with special needs. His belief in this journey inspired everybody around him to develop greater public awareness of Tai Chi and Chi Kung and their many benefits, both in South Africa and worldwide.

We lost Sifu Mannie Barstz on Tuesday, 23 July 2013, to an aneurysm. He will be dearly missed.

Training and Associations
Senior Instructor, International Coach & Judge
Appointed and trained by C.M. Su & Liang Dong Sheng
Certificated by:
The International Taiji Federation of the R.O.C. Taiwan,
City and Guilds of London,
The Chinese Martial Arts Development Ass.
Member of:
S.A. Chinese Koshu Federation.
S.A. Taiji Authority, S.A. Taijiquan Institute.
Martial Arts Authority of South Africa (M.A.A.S.A).